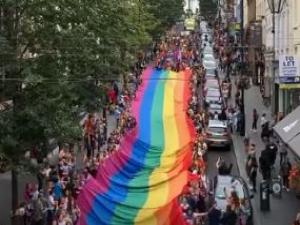 by Q Radio News
Thousands turned out in Derry/Londonderry today to celebrate Foyle Pride.
The annual event celebrates and supports Northern Ireland's LGBT community.
A sea of colour as the Foyle Pride march makes its way down Shipquay Street in #Derry this afternoon #FoylePride pic.twitter.com/50r3pZcltG

— Leona O'Neill (@LeonaONeill1) August 24, 2019
A parade left from the Waterside railway station which saw a vibrant and colourful sea of people, many holding heart shaped placards with their faces painted in rainbow colours, march through the city.
It followed the route of the 1968 Civil Rights March from Duke Street, along the Craigavon Bridge and towards the city's Guildhall.
The Mayor of Derry City and Strabane, Michaela Boyle led the parade this year.
She described the event as a "fabulous" celebration of love:
The @mayordcsdc @MichaelaBoyleSF and @sinnfeinireland Foyle MP @ElishaMcC_SF celebrate Foyle pride in Guildhall Square this afternoon. Mayor Michaela led the parade from the Waterside into the city's Guildhall #Derry #FoylePride pic.twitter.com/Yuy48sMpI0

— Leona O'Neill (@LeonaONeill1) August 24, 2019
One of the organisers of Foyle Pride Sha Gillespie told Q Radio it was a proud day for the gay community.
She said, "It's a really, really proud day for us all and it means basically being on the streets and everybody being happy and it's a family day.
"It's such a beautiful thing to see today, rather than your usual parades happening in Derry.
"We have this wonderful colour of people out.
"I'm really, really proud to be a queer woman today".
A beautiful, bright and colourful sign bearing Lyra McKee's name is carried in today's Foyle Pride march in #Derry #FoylePride pic.twitter.com/2WIbwjgIBi

— Leona O'Neill (@LeonaONeill1) August 24, 2019
Atmosphere is electric in the Guildhall Square this afternoon as crowd of thousands celebrate #FoylePride #Derry pic.twitter.com/bzSGlMqVXP

— Leona O'Neill (@LeonaONeill1) August 24, 2019