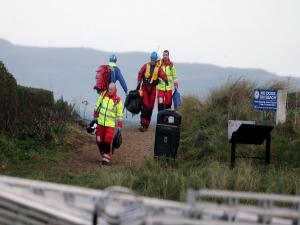 Picture by Kevin McAuley/McAuley Multimedia
By Q Radio News
Two women have been pulled from the sea in Ballycastle following a major rescue operation.
The alarm was raised at 8.31 this morning when they were spotted in the water just off Cushendall Road.
A number of rescue vessels from Ballycastle, Redbay and Coleraine were dispatched to the scene and helped bring the women ashore.
A spokesperson for the Northern Ireland Coastguard said the casualties were handed into the care of the NI Ambulance Service.
The Air Ambulance was also dispatched to the scene.
The condition of the women is not yet known.